"Once in a small school in Persia, some pupils were having their first lessons in writing. Holding their breath, gritting their teeth, fingers tensing on their reed pens, they drew as best they could the first letter of the alphabet (alif bâ): the A, alif. It's a vertical line drawn bottom-up, as simple as the number 1 (written the same way) and, for this reason also, the first letter of the divine name. The children made sure to reproduce the symbol of unity aligning rows of parallel lines on the pages of their writing books. One of them took particular care and, with extreme pleasure, kept filling pages.
The teacher moved on to the letter B – a boat-shaped form ornamented with a dot – which didn't interest the boy who was fascinated with the perfection of the A. He stubbornly continued to execute alif in his books, and didn't want to learn anything else. Finally, he got excluded from school and stayed ignorant and illiterate, but would never stop drawing As everywhere, all the time. One day, his wanderings by chance brought him near the school and his former teacher recognised him. The teacher took the opportunity to tell his pupils of this case of school failure: "Hey you, show them all what you learned in school", he said. So, the man took a piece of chalk and with his outstretched arm drew firmly on the wall of the room. As the chalk was sliding over the stone, tracing a perfect white line, the unrelenting determination of his gesture made the wall split in two parts."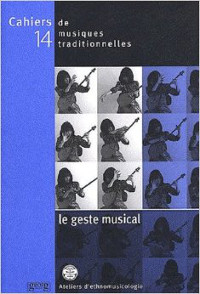 "A fine depositary of the Lorestan tradition tells us that this image applies perfectly to our old traditional melodies: with a letter, a word, a simple pattern, they touch you in the heart, whereas other music, with all their science and art would never reach you as much."
"But another explanation is possible: the gesture has to be considered in this anecdote. Over the years of repetitions, this gesture becomes perfect and brings down walls […]".
translated from French, in Jean During, Cahiers de musiques traditionnelles, 14 : Le geste musical, Genève : Ateliers d'ethnomusicologie, 2001, p.39. Reproduced with the kind permission of Laurent Aubert.