It was a year ago ! On the 11th October 2015, at the Espace Glenmor in Carhaix, more than four hundred people came to celebrate the official launch of the Breton Harp Anthology (Antologiezh Telenn Breizh). Among them, twenty-two contributors to the anthology came (in alphabetical order): Nolwenn Arzel, Anne Auffret, Hoëla Barbedette, Dimitri Boekhoorn, Dominig Bouchaud, Nikolaz Cadoret, Jakez François, Muriel Isambert, Florence Jamain, Soazig Kermabon, Tristan Le Govic, Françoise Le Visage, Mael Lhopiteau, Cristine Mérienne, Pierre Nicolas, Soazig Noblet, Nolwenn Philippe, Anne Postic, Gwenola Roparzh, Clotilde Trouillaud, Quentin Vestur and Marie Wambergue.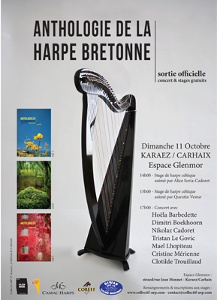 A Celtic harp exhibition was hold by Camac Harps, another one on the history of the instrument was presented by the Harp House (Ti an Delenn); Alice Soria-Cadoret and Quentin Vestur gave two Celtic harp workshops; the trainees and the pupils of the Carhaix Music School performed a short concert…
The day ended up with a concert gathering for the first time on stage: Hoëla Barbedette, Dimitri Boekhoorn, Nikolaz Cadoret, Tristan Le Govic, Mael Lhopiteau, Cristine Mérienne and Clotilde Trouillaud. As a prelude to this concert and as a symbol of the renaissance of the Celtic harp, the young Louisette Desportes performed what is the oldest tune published in the Anthology, Pedenn evit Breizh, an hymn arranged by George Cochevelou and first performed by his son, Alan Stivell, at the Maison de la Bretagne in Paris in 1953.
Here is the photo of the contributors by Philippe Dos: