A Breton Finn, another one Swedish. A Czech Breton, another one Swedish. A Swedish American, a Japanese American, an English Icelander, a Karelian Finn, a Belgian Swede, etc. Is the Nordic Harp Meeting the rendez-vous of travellers? One can find there those who are looking for something, and having found it one day want to share their discovery. Many things here seem to come from the past – the origins of instruments such as harp, lyre, hummel, langspil, and all the instruments which all of a sudden gave an authentic aspect in a present too rushed – but, in Järna, we are in the present.
Firewood for heating, sleeping mats on the floor, only one shower for all of the community, we almost forget that there is no Wifi in the Steiner school of Solvik, by the little town of Järna, south of Stockholm. In a scenery stunning by its forms – it looks like a Tim Burton movie – around fifty people gather with a passion for Nordic string instruments, during an extended week-end.
And as in a Tim Burton movie, clocks stop, giving time to find something. To find our origins maybe? Andy Lowings (Lyre of Ur) and Bo Lawergren (angular harps) bring life to antique instruments; Marit Steinsrud and Stein Villa tell us of the Norwegian Langeleik; Kate Fletcher and Corwen Broch share an English traditional musical repertoire almost forgotten today. Time maybe to make peace with our body through a physiotherapy session with Lise Enochsson; a harp-therapy session with Anouk Platenkamp or Harp music therapy in neonatal care with Mark Harmer? Time to find new or early music; ancient or modern techniques?
A simple movie's script would impose that the actors should have precisely defined roles. The reality is different here. Each participant brought treasures of knowledge mixing the roles in between us: the teacher of a workshop becomes the student in another one. The tempo is fast. There are so many things to talk about: lectures, workshops, concerts, allspel (sessions), etc. all of this in only three days.
What a strange symphony performed together with harps (Celtic, Nordic, historical or modern), lyres (pentatonic or chromatic), guitars, langspil and other instruments which we even don't know the names of. The score seems improvised but, like in any good group improvisation, it's all prepared. This year Erik Ask-Upmark is the conductor as well as the one-man-band since he's also harper, piper, singer, pianist, organiser, what else?
And as in all traditions, music calls us to dance. In this game, each one becomes the ambassador of another culture: the Czechs Josef Berger and Mikuláš Bryan brought from their trip some dances collected in Brittany, whereas the breton Vincent Michaud and the Russian Katja Nyuppieva show their skills in step dancing. On the Icelandic steps of the Vikivaki (or Sagnadans) lead by Bára Grímsdóttir, Chris Foster sings an English ballad. The tempo is getting faster and we quickly have to get used to the diversity shared together. Between two polskas, we surprise ourselves in dancing a waltz performed on the piano of the school. After listening to the surprising electro sound that one can get by the amplification of the five-stringed kantele, who can say that this instrument is limited?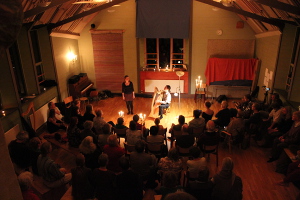 Despite being exhausted by the intense program of the Meeting, the good atmosphere is still going on. Our excellent chef Juhanni prepares the energetic meals while some other people start singing while doing the dishes. Nobody complains about the lack of alcohol within the school replaced by a typical Swedish fika (cakes, coffe, the and other fruit juices) served till late in the evening by the pupils of the school in order to collect fund for their projects. Like the instruments present, everything goes alongside.
After a last musical sharing, the Meeting of Järna was closed with the terrible surströmming's scents. Everybody is back home somewhere in the world, a world wider but also more familiar now. All have a date in mind, for the next Meeting will be in Gjøvik, in Norway.