Created in 2003 by the Comité des Rencontres Internationales de Harpe Celtique (CRIHC – Committee of the International Celtic Harp Meeting), driven by Myrdhin and Zil, Ti an Delenn (the Harp House) celebrates its 10th anniversary this year. Storefront of the summer festival but also resource centre, exhibition hall, meeting place and shop, the Harp House organises events all along the year. Hélène Chapillon and Ingrid Malot are the two permanent staff members of this unique place in the world which was created thanks to support provided by the city of Dinan.
Hélène Chapillon: The Harp House is situated in Dinan's historical centre, at the Hôtel de Kératry, a timber-framed house just by the Théâtre des Jacobins. The building is beautiful and its history original: built in the 16th century in Lanvollon (a town in the Côtes d'Armor department), it was burned in the 30s. Bought by the city of Dinan, it was then rebuilt in 1939, right in the city centre, rue de l'Horloge.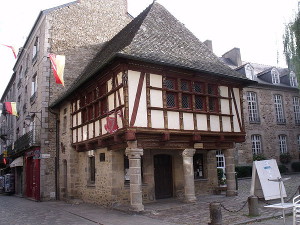 Today, this venue promotes the Celtic harp and traditional harps from all over the world. A collection of instruments, as well as temporary themed exhibitions can be seen upstairs. Among the exhibitions Harp of the Celts was the first one; then From the donkey to the angel (exhibition on the medieval harp), the African harp, the Latin-American harp and, at the moment, Harp and tale. Next season we will unveil another side of the richness of the instrument with an instrument making theme which will include an exhibition and a workshop. We are also organising events and concerts for schools, workshops and more. Those activities allow us highlights all along the year and not only during the festival.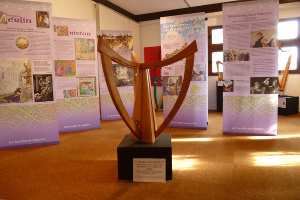 The exhibition "Harpe et conte" (Harp and tale) can be seen all summer at the Harp House.
Dinan is a touristic town and our visitors come from France as well from abroad. Some of them just visit the exhibition, others take the opportunity to try, sometimes for the first time, the strings of a harp. We are also organising activities in Dinan and around (about thirty kilometres) for children in schools and in recreational centres, in order for them to discover the harp.
The CRIHC was created in 1989 to organise the festival. One hundred and fifty people are now members of the association, among them artists, festival trainees but also individuals who support the association. We are not a shop so we can only sell our members' CDs and harp books. All the products are available online at http://www.harpe-celtique.fr.
Hélène Chapillon (permanent staff), Myrdhin (festival artistic director) and Virginie Cardoso (convenor of the CRIHC).